The Economic Crime (Transparency and Enforcement) Act 2022 has been introduced by the UK government, with the main aim of ensuring transparency in ownership of property in the UK, to reinforce the country's fight against money laundering, financial fraud and other economic crimes.
To ensure compliance with this legislation, it is imperative for solicitors, law firms and organisations dealing with property transactions to carry out Politically exposed persons (PEPs)/sanctions checks on all current and new clients.
Failure to comply can result in your client's property being frozen and you can be fined up to £2500 per day with custodial sentences of up to five years.
The National Crime Agency estimates that money laundering costs the UK economy £100 billion every year. By implementing this act, the government wants to clamp down on the illegitimate money circulating in the UK property market, now more than ever because of the sanctions imposed on Russia.
The Act is divided into three main measures:
Introducing a beneficial ownership register for overseas entities holding real estate in the UK
Strengthening of unexplained wealth orders (UWOs)
Making it easier to prosecute anyone involved in violating sanctions
Introduction of a public register
In the UK, real estate transactions are commonly used by criminals to launder the proceeds of crime. By operating via companies registered overseas, the beneficiaries are often hidden from view thus making it difficult to establish the identity of the true owner of the property.
To combat this, overseas entities that own land in the UK, or intend to acquire land in the future, will have to register details of their beneficial owners, the person who ultimately owns or controls an asset, on a new register of overseas entities maintained by Companies House.
Information supplied to the register will be verified and it will be the duty of the entity to update its information annually.
Strengthening the UWO regime
Unexplained Wealth Orders (UWOs) were originally introduced by the Criminal Finances Act 2017, which empowered specified enforcement authorities to apply for a court order in relation to property held by non-UK Politically Exposed Persons (PEPs) or if the property owner was involved in criminal activities.
The Economic Crime Act has amended the grounds on which the court may grant an application for an UWO, namely:
If a person fails the income test i.e.the known sources of the person's wealth are insufficient to have obtained the property.
If the property has been obtained through unlawful means.
Some more provisions have been made available under the Economic Crime Act to make it easier for UK authorities to obtain UWOs:
UWOs can be issued to people managing the property held in the UK via offshore or trust structures, even if they are not the beneficial owner.
In case of a failed UWO application, the enforcement authorities will not bear huge legal costs.
The authorities are given much longer to investigate material received in response to a UWO before discharging the interim freezing order over the assets in question.
Changes to sanctions legislation
Under the Economic Crime Act, substantial changes have been made to the enforcement of the sanctions regime in terms of civil liability and penalties.
The Office of Financial Sanctions Implementation (OFSI) is responsible for enforcing and supervising financial sanctions in the UK and has the power to impose monetary penalties, provided it is satisfied on the balance of probabilities that a person/business knew or had reasonable cause to suspect that they had breached financial sanctions.
This Act has removed this requirement, creating a strict civil liability, which means that a person/business will be held liable even where they have no knowledge or reasonable cause to suspect that they are in breach of sanctions.
The OFSI has also been allowed to publicly expose businesses that have breached financial sanctions even if no penalty has been imposed on them.
A bigger and better Companies House – what's changing?
Companies House provides the UK's business community with a simple system for creating and maintaining companies and other legal entities, and publicising information on those entities for the benefit of investors, lenders, regulators and the public.
However, recent years have seen this framework manipulated, particularly in the use of anonymous or fraudulent 'shell' companies and partnerships, which is why the government will be introducing reforms laid down in the Corporate Transparency and Register Reform White Paper.
As a result, some of the main incoming changes are:
Companies House will verify the identity of anyone seeking to set up or control a company in the UK.
Companies House will be able to challenge suspicious information and report it to the law enforcement agencies.
Company agents from overseas will no longer be able to create companies in the UK on behalf of foreign criminals or sanctioned individuals.
Introduction of a mechanism by which individuals can apply to suppress personal information published by Companies House to safeguard them from fraud and other harm.
An increase in additional information requests and validation checks to improve the accuracy and quality of information to make sure that users of the register can confidently make informed business decisions.
Amiqus is integrated with Companies House and open corporates covering 120 million entities in the UK and worldwide.
Our Companies lookup feature uses this integration to help you identify directors and people with significant control (PSC) of organisations.
In addition, organisations and assets can also be monitored with our Watchlist check for sanctions and adverse media.
How can the Economic Crime Act impact your business?
When a solicitor typically registers ownership of land and property, they will have to declare in public records who ultimately benefits from it.
If the solicitor registering the property fails to identify the beneficial owner, the property will be frozen, with the owner unable to lease it, sell it or raise a mortgage.
Since a person or business can now be penalised even where they have no knowledge or reasonable cause to suspect that a transaction to which they are party is in breach of sanctions, Solicitors and law firms have to make sure that they identify and list the beneficial owner/owners when registering any land and property.
Non-compliance with the legislation will lead to fines up to £2500 per day, with custodial sentences of up to five years which means it is crucial for businesses to conduct Politically exposed persons (PEPs) and Sanctions screening of current and new clients.
An oversight on the part of any business in thoroughly vetting individuals/organisations that they have a business relationship with, can lead to not just regulatory consequences under this Act but can also cause reputational damage.
How can Amiqus help?
Our powerful Watchlist check will allow you to instantly screen and continuously monitor global data on politically exposed persons (PEPs) and sanctions lists, as well as adverse media data from 500 million web pages, making sure that you are in compliance with the Economic Crime Act.
The following image is an example of the results you would see after completing a watchlist check, which includes:
Politically exposed persons (PEPs)
Sanctions
Adverse media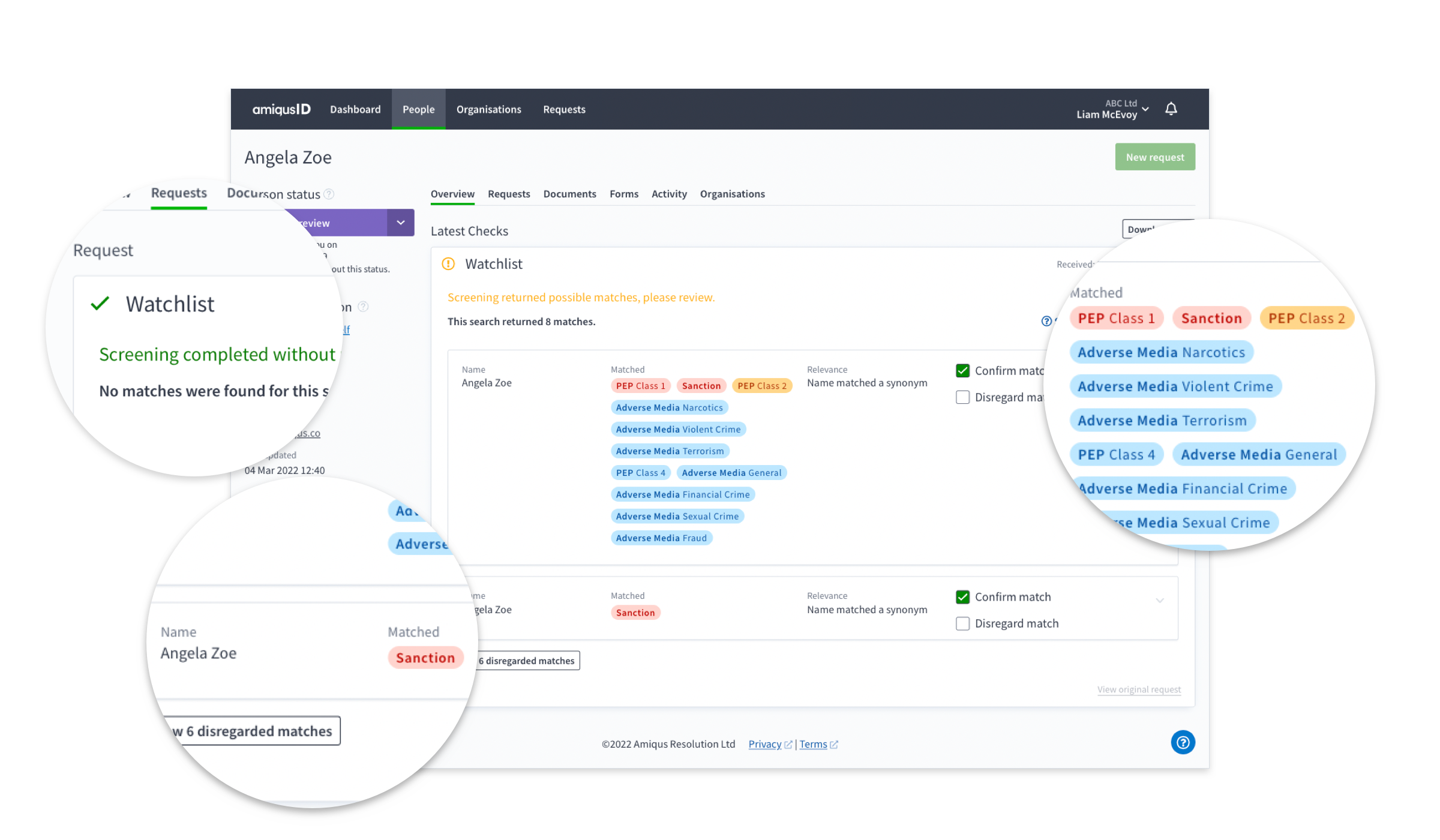 To find out more about how Amiqus can help you carry out PEPs/Sanctions checks on your clients, kindly get in touch with us on [email protected].